"

Aggressive… a band rocking out with exotic sounds….gorgeous voices…The best moments happen when the [vocal] harmonies meet with the band's rolling thunder."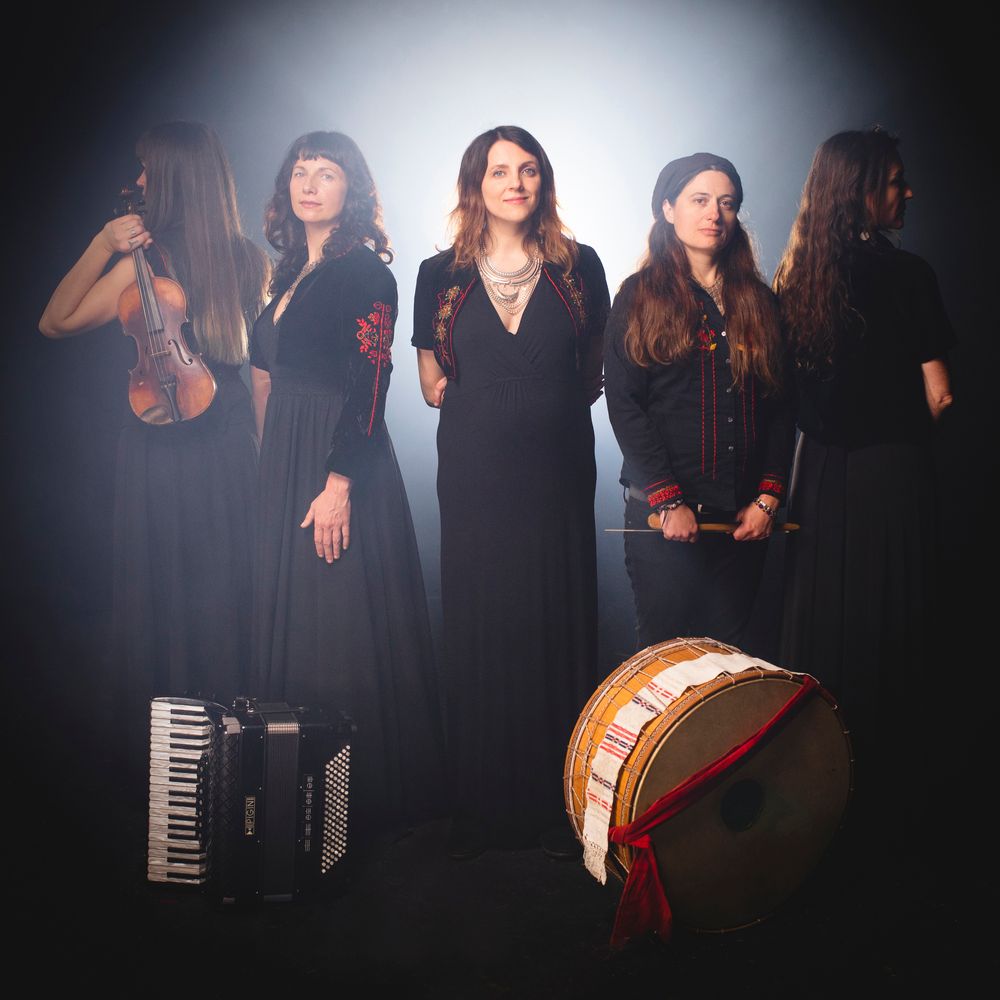 About Blato Zlato:
Based in New Orleans with additional members in Bulgaria, New Mexico, and California, Blato Zlato is an all-women contemporary folk ensemble that performs driving and ecstatic compositions in the lineage of Eastern European traditional music. With a repertoire encompassing invigorating and distinctly modern arrangements of traditional Bulgarian folk songs as well as Bulgarian language-based original music, Blato Zlato's mission is to connect listeners with Eastern European ancestry and heritage, to spark exploration and curiosity of the music of the Balkans, and to create new, relevant music that spans cultures. Through new composition, Blato Zlato draws inspiration from venerated folk motifs and seamlessly integrates current themes and sentiments, with their original works expounding on contemporary topics such as climate change, mental health, and immigration, while staying true to their Balkan roots by employing traditional melodic motifs and folkloric storytelling styles. The group also uses modern composition techniques to re-interpret traditional songs, continuing the rich history and tradition of creating new arrangements of ancient folk songs. In these ways, their music embodies the evolution of folk music as it intersects with the immigrant experience of building a life in a new world while retaining the cultural practices and traditions of previous worlds.
Blato Zlato has toured extensively throughout the United States and in Europe, gaining a loyal international following. The group was celebrated upon their two tours of Bulgaria in 2018 and 2019, inspiring young Bulgarians who, due to the scars left behind by communism, had previously rejected their nation's folklore, to reconnect with their heritage. The group has been featured live several times on Bulgarian National Television and Radio and has appeared on Folk Radio UK, NYC Radio Live, and the Village Voice. In 2019, Blato Zlato released their anticipated sophomore album, In The Wake, which charted at #33 on the Transglobal World Music Chart's 2019-2020 Top 100 Albums, and has appeared on festival stages such as Lotus World Music Festival, SXSW as a 2022 Showcase Artist, French Quarter Festival, and the New Orleans Jazz and Heritage Festival. In 2023 Blato Zlato became a Performing Arts Discovery (PAD) Showcase Artist, a program funded by the National Endowment for the Arts (NEA) that generates overseas touring opportunities for U.S. performing artists.