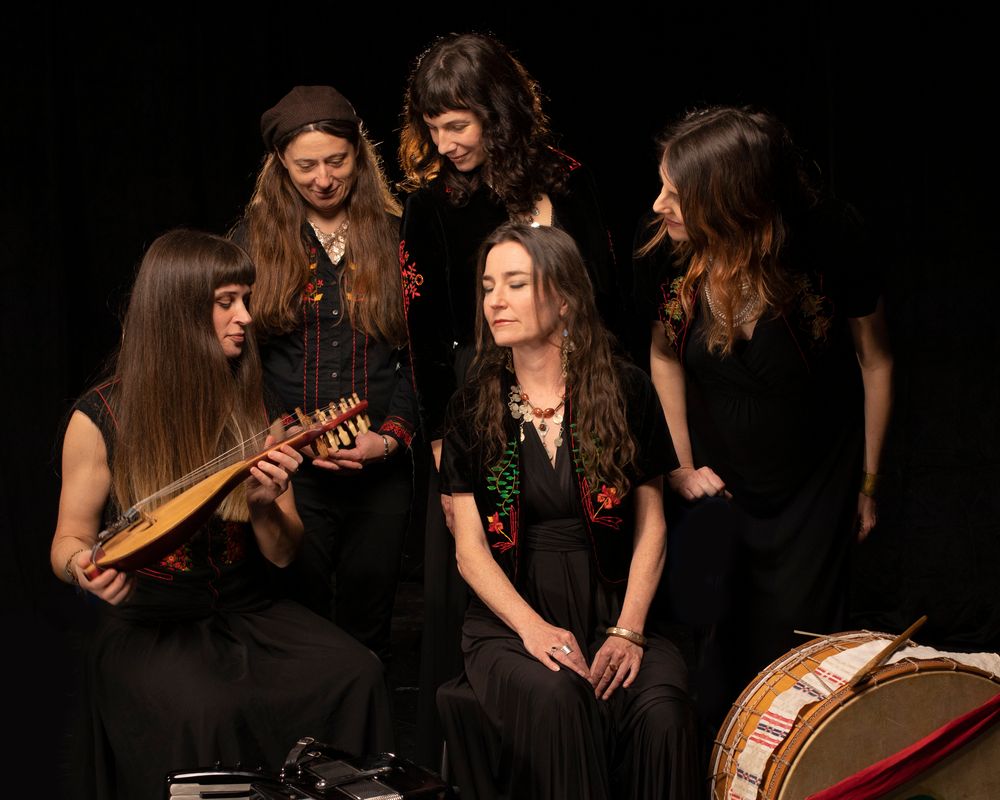 "Only at rare moments of peak experience have Balkan dancers been as inspired as by Blato Zlato's riveting three-voice women's singing, incandescent instrumentals, and compelling drumming. Delivering both refreshing arrangements of classic Bulgarian folk music and pitch-perfect compositions in traditional genres, this seamlessly tight group is electrifying every time they strike up.  Hypnotic atmospheric introductions prepare both listeners and dancers to be swept away on an extraordinary excursion through musical landscapes which are, when the wave surges, a direct route to ecstatic dance and, when it subsides, a path through meditative meadows."  - Michael Kuharski, Wisconsin Folk Arts Association & Madison Folk Dance Club
Based in New Orleans with additional members in Bulgaria, New Mexico, and California, Blato Zlato is an all-women contemporary folk ensemble that performs driving and ecstatic compositions in the lineage of Eastern European traditional music. With a repertoire encompassing invigorating and distinctly modern arrangements of traditional Bulgarian folk songs as well as Bulgarian language-based original music, Blato Zlato's mission is to connect listeners with their Eastern European ancestry and heritage, to spark exploration and curiosity of the music of the Balkans, and to create new, relevant music that spans cultures. Through new composition, Blato Zlato draws inspiration from venerated folk motifs and seamlessly integrates current themes and sentiments, with their original works expounding on contemporary topics such as climate change, mental health, and immigration, while staying true to their Balkan roots by employing traditional melodic motifs and folkloric storytelling styles. The group also uses modern composition techniques to re-interpret traditional songs, continuing the rich history and tradition of creating new arrangements of ancient folk songs. In these ways, their music embodies the evolution of folk music as it intersects with the immigrant experience of building a life in a new world while retaining the cultural practices and traditions of previous worlds. 
INSTRUMENTATION
Blato Zlato's goosebump-inducing three part harmonies enchant the listener with their haunting otherworldly spell. The thunderous tapan, a Bulgarian folkloric percussion instrument, commands audiences to step their feet along to odd time signatures and dance the horo, traditional social dances found in the Balkans and throughout Eastern Europe. Ornate melodies played on accordion and gadulka, a traditional Bulgarian bowed string instrument, provide the bridge between the mountain villages that birthed the folk traditions comprising the backbone of Blato Zlato's sound, and modern day American life and the unique perspectives and challenges it presents. 
MEMBERS
Bridging centuries and continents through their music, Blato Zlato offers audiences their unique perspectives brought to life by creative partners Lou Carrig, Annalisa Kelly, and Boyanna Trayanova. The group's trio of songwriters hail from diverse backgrounds, drawn together by a shared passion for the folk music of the Balkans and especially the music of Bulgaria.
Percussionist Boyanna Trayanova, born in Bulgaria during Communist times, came to New Orleans as a child, and along with her family, embarked on a journey to build a new life in America. The infectious sounds of New Orleans jazz captivated Trayanova during her formative years, and she never looked back, teaching herself to play the drums and thriving as an accomplished and sought-after musician. As an adult jazz drummer, Trayanova reconnected with her Bulgarian roots and began studying the complex rhythms of her native homeland, eventually teaming up with Kelly and Carrig to create culturally meaningful music and telling her story of emigrating to the new world.
Vocalist Annalisa Kelly grew up in Russia, Finland, Serbia, Austria, Turkey, and Italy, coming to the United States for university at age 17. An avid lover of Bulgarian folk music and vocal traditions, she has been studying and singing Balkan music in a variety of musical groups for nearly 20 years. It was in New Orleans where she found kindred-spirit musicians who shared her love of Bulgarian music as well as composing and arranging new music drawn from Bulgarian folklore music.
Accordionist and vocalist Lou Carrig was trained on classical piano from an early age. A first generation American of Irish parentage, her thirst for tradition led her to switch from piano to accordion in order to pursue a career in folk music, training under accordion and voice teachers in Bulgaria, Serbia, Bosnia, Romania, Hungary, and Germany. In addition to her ten years of independent study with accordionists Merima Kljuco (Bosnia), Elin Kostadinov (Bulgaria), and Saša Stanojević (Serbia), Carrig also holds a B.A. in Accordion Performance from the University of New Orleans. Carrig is a 2023 Fulbright award recipient, and will be spending 2023-2024 living in Bulgaria researching traditional botanical rites in Bulgarian ritual songs.
Together, Kelly and Carrig have studied with a wide range of venerated Bulgarian vocalists, including Neli Andreeva (soloist of Filip Koutev Ensemble), Gergana Dimitrova (soloist of Eva Quartet and Mystery of Bulgarian Voices Choir), Binka Dobreva (soloist of Mystery of Bulgarian Voices Choir), Yanka Rupkina (soloist of Mystery of Bulgarian Voices Choir and Trio Bulgarka), Violeta Marinova (soloist of Mystery of Bulgarian Voices Choir), Radka Aleksova (soloist of Mystery of Bulgarian Voices Choir), Bistrishki Babi, Tzvetanka Varimezova, and Donka Koleva.
Blato Zlato's compositional core is joined on the road in 2023 by upright bassist Janie Cowan (Bob Dylan's Shadow Kingdom), Grammy-award winning vocalist Willa Roberts (Black Sea Hotel & Yo Yo Ma), and Bulgaria-based gadulka player Isabel Sokol Oxman (Kaba, Orfeo & Majnun).
Blato Zlato has toured extensively throughout the United States and in Europe, gaining a loyal international following. The group was celebrated upon their two tours of Bulgaria in 2018 and 2019, inspiring young Bulgarians who, due to the scars left behind by communism, had previously rejected their nation's folklore, to reconnect with their heritage. The group has been featured live several times on Bulgarian National Television and Radio and has appeared on Folk Radio UK, NYC Radio Live, and the Village Voice. In 2019, Blato Zlato released their anticipated sophomore album, In The Wake, which charted at #33 on the Transglobal World Music Chart's 2019-2020 Top 100 Albums, and has appeared on festival stages such as Lotus World Music Festival, SXSW as a 2022 Showcase Artist, French Quarter Festival, and the New Orleans Jazz and Heritage Festival. In 2023 Blato Zlato became a Performing Arts Discovery (PAD) Showcase Artist, a program funded by the National Endowment for the Arts (NEA) that generates overseas touring opportunities for U.S. performing artists.